I do not usually go in for musical entertainment, but as with all my rules I make exceptions. One exception is whenever Stephen Sontheim is involved another is Woodysez, which has just begun a short run, until 2 April 2011, in London's Westend.
Wodysez tells the life story of folk-singer/poet/composer and political activist Woody Guthrie. Guthrie's struggle for the rights of deprived farmers and working-men during the Great Depression and beyond, is the stuff that legend is made of. He is a true and authentic American hero, a man who fought for labour union recognition, who remained clear-eyed and optimistic in a life full of tragedy until a debilitating hereditary disease Huntington's Corea struck him. Guthrie's poetic and musical talents are key lasting influence on the entire folk-singing movement from Pete Seeger to Bob Dylan and all the way to Bruce Springsteen.
Woodysez is a simple show, telling Woody Guthrie's life and performing many of his most famous songs. The cast consists of 4 talented and enthusiastic musicians led by the outstanding David M. Lutken who also co-wrote the show. The writers and cast are not only committed to their performance, but clearly have a lot of admiration and love for Woody Guthrie the man, his ideas and his struggle for the dignity of the American working man and woman. Guthrie's clear-sighted view of American society in the Great Depression and his enormous talent as a political songwriter and performer shine through the entire performance of Lutken and the other members of the cast, as they truly connect with their audience.
After the Saturday evening performance, the cast still had the energy for a hootenanny,
an informal gathering with folk music, in the Arts Theatre Foyer Bar. Anyone with a voice, a guitar or a fiddle was welcome to join in. To the delight of a packed swinging, singing crowd, making their request for American folk classics, quite a few talented musicians did.
Woodysez was a hit when first performed in the UK at the 2007 Edinburgh Fringe Festival. For pure entertainment value it deserves to be sell out in London's Westend this year.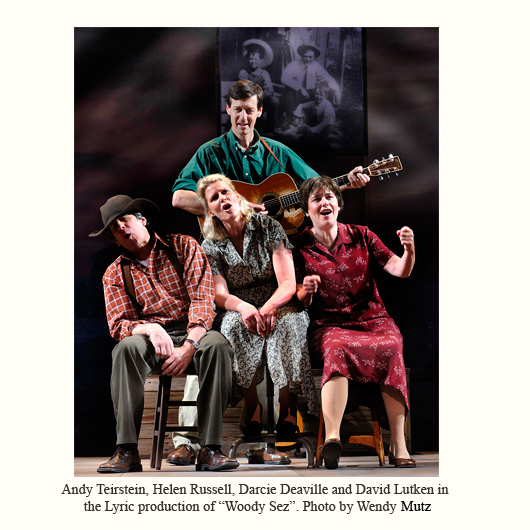 Picture from the Hootenanny after the Saturday Night Performance